The success of this plan is dependent on the speed at which we can grow.
Invest in tomorrow today and help us make 2017 a killer year



PLAN DETAILS
M
OUSAi is the name of the collective of muse's in mythology. Everything we do at our collective encompasses the attributes of the muse, giving what artist need to progress their creative businesses. Our campaign isn't just about asking for money, it is about gaining revenue to offer real assistance to the creative community. So our job is to bring something real and tangible for creatives to benefit from.
$15,000 MILESTONE: 4/1/2017
Once we meet this goal we can launch our event series featuring you, the artists. This milestone will allow us to buy a HD Live Stream rig capable of 360 video to showcase local artists around the city while on stage, in conversation, or in the studio. A small production team will travel around the city everyday live streaming our supporters as they invite us. We will also use this fund to book Nappy Roots for a private performance and interview only for you our supports in our event series "The Seed". Only those who invest will receive access to the show physically, or through HD 360 Live Stream. This will also launch our patreon page, where we will focus on private shows with mainstream and local artists for our supporters.
$250,000 MILESTONE: 5/24/2017
As we spread our silent campaign across the country, we will continue to focus on getting our first location in DC. This next milestone will allow us to secure the building and start construction on the first gym for artists. Our design encompasses state of the art technology for the best quality live productions, while still feeling like your home away from home.
$500,000 MILESTONE: May, 2017
This milestone will allow us to build out 10 private studios for artist residencies, and our state of the art studio on the lower level of the new gym for artists. Once complete our artist partners willl be able to curate incredibly unique events, inviting DMV to our new home.
$750,000 MILESTONE: July 2017
Constructing the upper levels to serve a wide range of artists with a computer lab, server room, flex-studio space, lounges, and martial arts/dance studio, will all be possible once we reach this milestone. We will also have the funds to further the development of our App, giving us the ability to push our art community even further.
$1,000,000 MILESTONE: August 2017
Once we reach this milestone we can start our states tour. Depending on where our supporters are from around the country, we can plan to visit with our production team, giving a stage to many artists, and building connections for future partnerships. Back in DC we can begin working on our artist hostel, giving our out of town guest a one stop shop of artistry.
$2,000,000 MILESTONE: Jan 2018
At this milestone we will have had some time to work out the organization structure and start looking for a new city to partner with. Each location will follow the structure of 90 artist partners, and a facility management team. For our next location we really need to attract the right artists, who know what their city needs.
W
e at MOUSAi are set out to make an extreme change for Underground Artists. The problem with the creative communities in urban areas is mainly the financial stability of its constituents. To solve this, our plan is to build Gyms for Artists, where local artists are given ownership and equity. Each location will have 90 partners including Chefs, performing and visual artists, and creative technicians. The facilities are built for live streaming and professional quality recording. Artist Partners create incredible entertainment and educational content from all their many different crafts and skill-sets. But we are not just trying to change the artists experience, but also that of their fans. Our Virtual membership will allow those interested in learning new skills, access to live streamed/pre-recorded shows and classes, as well as being able to follow their stars on their journey. MOUSAi isn't a nonprofit, we are a collective of artists who believe that a new style of artistic business is long overdue. With the help of incorporation as a B corp in cities that allow, we will be able to apply for 501c3 grants while still acting in the best interest of our share holders, the artists. Creating a community of creative entrepreneurs is our vision; Creating a global network of underground artists through both physical and virtual resources is our goal. Washington, DC is our first location, but the plan is to grow to every city that needs something like this. Our Core Team of artist partners are working on unique programs like:
Instrumental and vocal lessons
Visual Art Lessons
Live and Runway model training
auto mechanic training
cooking classes
growing and edible classes
graphic design.
Science lab (teaching the community how to test their own blood)
App and Web Design
Creative Business management and development.
THE SEED: A Live Performance and Interview Platform inviting main stream artists to DC to pick their brains about their success. (Nappy Roots headlines our first implementation)
Photography
and much more!
Each of our programs will be live streamed and recorded for our virtual and physical members.
FIRST MILESTONE: THE SEED
T
he Seed is an event series where we invite a main stream artist to a city to jam, collaborate, and verbally build with local artists. This is a private event for ONLY our supporters! We want to offer those who've helped us an unique experience; something to scratch that itch called mundane. Whether through a jam session, cypher, or interview where our audience asks the questions, each Seed installment will be different and extremely satisfying. The best part is, you are the only ones who get to enjoy it! each live and virtual participant will have access to the audio, video, and the potential to ask these amazing artists a question. Our awards for investments all include access to these shows, and when we make our goal of $15,000, you'll also have access to our beta social media site and APP to meet and network with artists who've all joined our mission. The money from this first funding round will be used in part to buy a live streaming rig capable of 4 camera feeds, and 3d streaming. Even up to the Seed Event, we will use this rig to travel the city, streaming our artist partners in whatever they do. Our social media will be filled with the amazing work you all do to help push the campaign and give our artist partners exposure.
Our First rendition of The Seed will be featuring NAPPY ROOTS! a hip-hop group that has managed to stay together and support their community through their success. We will consistently be booking artists of mindset and artistic caliber, only increasing with fame of the artist as we are able to afford it. We'd love our next show to feature Solange, The Roots, or both! but we can't do it without you. Help us raise the funds and silently spread the word as much as possible, and based off the response in your city, we'll try to bring the whole show to your city!
Funding Needed:    $15,000.00
Funding due:           3/15/2017
Performance date: TBD
Beta App Release:  4/15/2017

O
ur DC location is located in the artistic community of Mt. Rainier. Our design will be able to serve artists by providing above industry standards for isolation and quality of recording. With the whole building plugged in to our live streaming technology; shows, classes, workshops and programs will be broadcast to the world giving our local artists exposure and revenue generated by their ever growing fan base. Creative travelers, musicians, and others will be able to come to DC and stay in their own hostel room, designed with the artist in mind. The flagship of every MOUSAi location will have a hostel, recording studio, private artist studios, and multiple lounges, and flex studio space to serve the local artists of our region. Each room rendering is in the collapsible window below.
Funding Needed: $500,000
Build out goal date: 5/1/2017

O
ur App takes all of the good from companies like Uber, Netflix, and youtube and drops the bad! Artists can Setup shows, classes, and events, and gain monthly revenue from each subscriber they get! For Underground Artists fans they become our virtual members and pay only $10 monthly to see Artists perform, teach, and produce from all over the world! The design is in the works but we need your support to make it happen!
The Alpha release will be available on iphone and android and will have a free download for standard programming and shows, plus an option for premium content, access to our social network, and the artist streams for only $10 monthly. Premium subscribers will be able to stream live shows like the one with Nappy Roots to their phone, tablet, or smart TV, plus the bonus of the video and audio from all events.
Funding Goal: $750,000
Funding Date: 6/1/2017
Roll out Date: 7/1/2017
...
O
ur first floor is designed with a heavy emphasis on Music and affordable private studio space.  We will be able to provide studio space for artists at a price that just no longer exists in the city. In return these artists will provide their brands and expertise to our future virtual and physical members. The Audio Studio will be state of the art, and be wired for live streaming performances. We plan to bring A-list artists to DC though this program, supporting our virtual and physical members with a chance to connect with the best.


7
T
he 2nd floor is all about our technical creative's needs. Here is where we fellowship, work on our crafts, and collaborate projects together. This whole floor will also be setup to live stream and create recorded video content to our future virtual members. Tune in to classes in our computer lab, train from home with a mixed martial artist, or just listen to one of our many DJ's practicing a new mix in our lounge while you work from where ever you are in the world.


ROOFTOP HYDRO-GARDEN
This Milestone will allow us to Build out the Rooftop Hostel Design, giving us revenue and a new integration of artistic support by providing a creative hub for traveling artists. We want to be a hub for DC creative community. Using Shipping containers, a recycled material, and solar panels over each roof on the building we will build a state of the art facility that doesn't kill the environment.

One of the Shipping Pod designs we'd love to incorporate is a green pod. Powered sustainably, we can grow quality fruits and veggies for our community.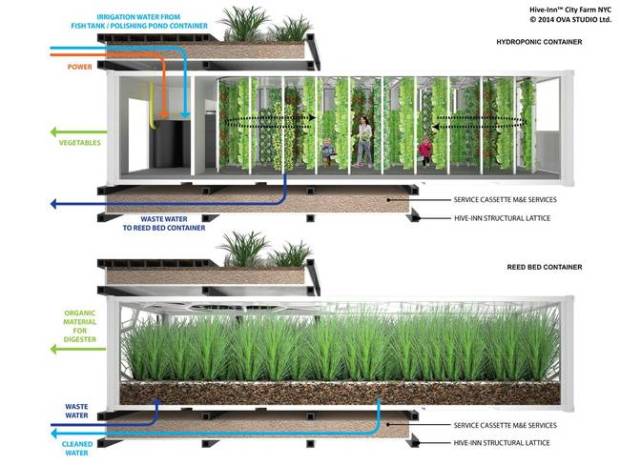 INVEST TODAY AND HELP US MAKE A REAL CHANGE.